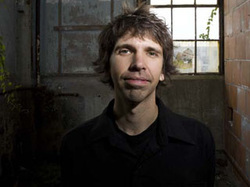 On the heels of Sergio Aragones' recent cancellation, we are thankful and excited that Tom Hart was interested in accepting our invitation to fill Sergio's very large shoes as this year's 2015 MSU Comics Forum Keynote Speaker on very short notice.
Tom Hart is a cartoonist and the Executive Director of The Sequential Artists Workshop, a school and arts organization in Gainesville, Florida. He is the creator of the Hutch Owen series of graphic novels and books, and has been nominated for all the major industry awards. His The Collected Hutch Owen was nominated for best graphic novel in 2000. He was an early recipient of a Xeric Grant for self-publishing cartoonists, and has been on many best-of lists in the Comics Journal and other comix publications. He has been called "One of the great underrated cartoonists of our time" by Eddie Campbell and "One of my favorite cartoonists of the decade" by Scott McCloud. His daily Hutch Owen comic strip ran for 2 years in newspapers in New York and Boston, and his "Ali's House", co-created with Margo Dabaie was picked up by King Features Syndicate.
He was a core instructor at New York City's School of Visual Arts for 10 years, teaching cartooning to undergraduates, working adults and teens alike. Among his students were Dash Shaw, Sarah Glidden Box Brown and other published cartoonists.  He has taught comix and sequential art at schools and institutions all around New York City for more than 10 years, and has conducted week-long workshops from Maine to Hawaii. His Daddy Lightning, was published in March 2012 from Retrofit, and Let's Get Furious, a 380-page new Hutch Owen digital collection for tablets, is available from Top Shelf. He also teaches sequential art in the School of Art and Art History at UF.