MSU Comics Forum
Michigan State University – Main Library
366 W Circle Dr, East Lansing, MI 48824
– — —– — –
Parking: The MSU Main Library (green on map below) and available parking on ramp #6 and ramp #2 (red on attached map) will be open to the public on Friday during the Creator Keynote Address and throughout the day on Saturday for the Scholar Keynote Address, Artist Alley, and Panel discussions.  Ramp #6 and ramp #2 will be your best options for parking. Once you enter the library, signage will be posted directing you to the events.
Attn Exhibiting Artists: Lot #11 behind the main library will be open from 10-10:30am on Saturday for unloading your materials.
Click map for larger image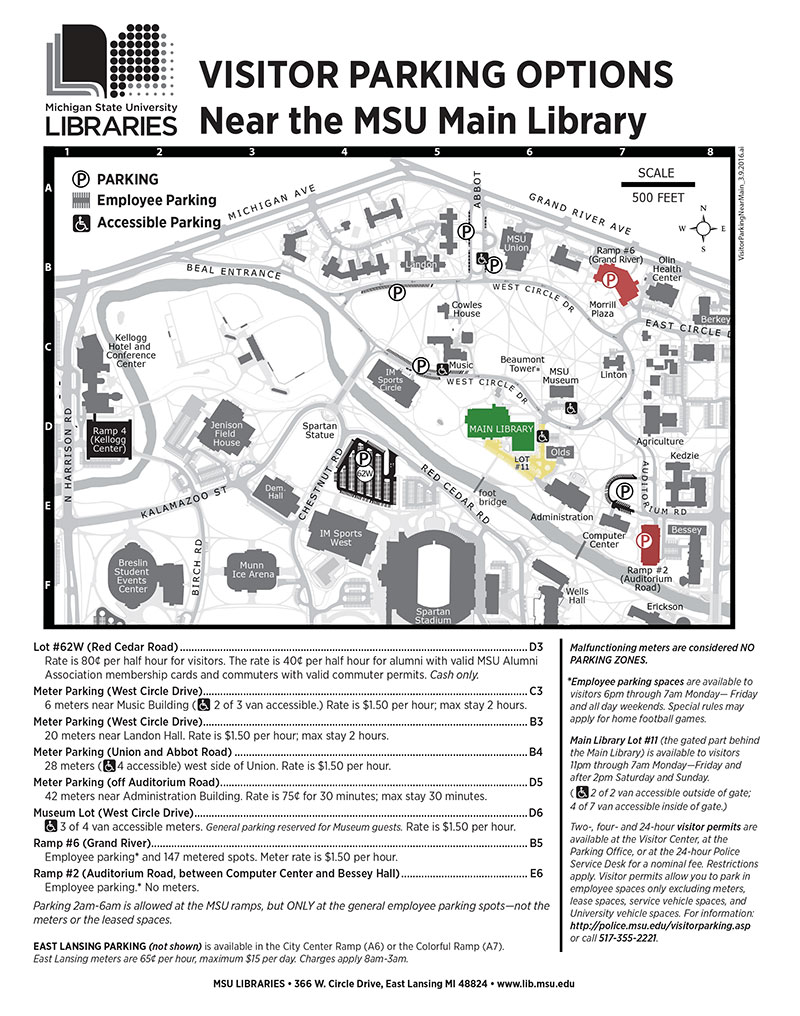 – — —– — –
MSU Comics Forum Conference Hotel

Kellogg Hotel
Guests can make reservations online or by phone.
Block Name: MSU Comics Forum Room Block or Group Code:1902MSUCOM
to receive the conference rate.
The room block will be available until January 14, 2019.
ONLINE RESERVATION INSTRUCTIONS
-Go to www.kelloggcenter.com
-Click on the "Reservations" link at the top of the page
-Select "Check availability and book now!" link
-Enter arrival, departure, rooms, & number of adults & children
-Select "Click Here for Special Rates" and enter your Group Code: 1902MSUCOM
-Click "Check Availability"
– For special requests, reservations outside of the conference dates, or reservations after the room block release date, please call 800-875-5090 or 517-432-4000.
PHONE RESERVATION INSTRUCTIONS
800-875-5090 or 517-432-4000
Monday-Friday 7:30am-7:00pm
Refer to the Block Name: MSU Comics Forum Room Block or Group Code: 1902MSUCOM
Lansing Airport or Michigan Flyer Shuttle Hours are 7am to 10:30pm