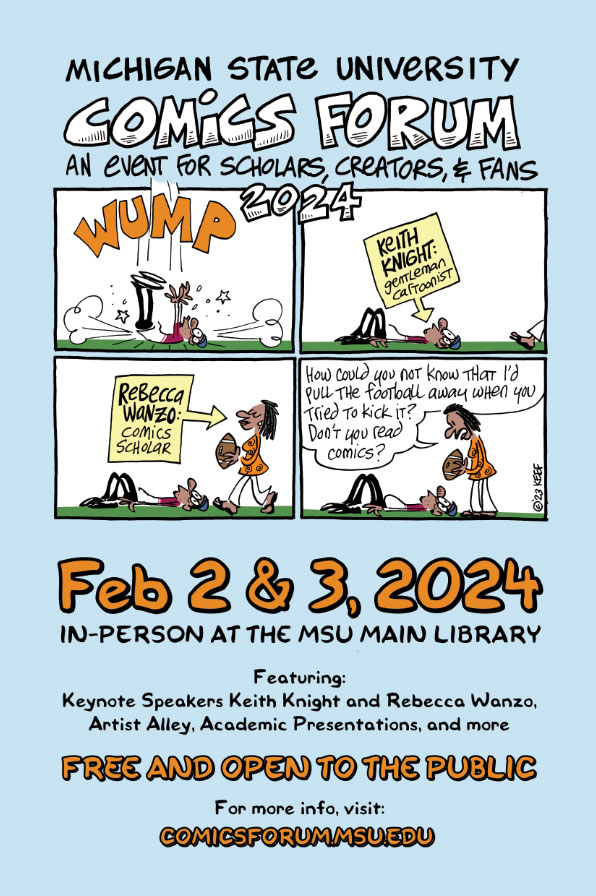 The Michigan State University (MSU) Comics Forum returns for it's first triennial event on the first weekend of February 2024 in-person at the MSU Main Library. All events associated with the MSU Comics Forum are free and open to the public. This year we welcome two esteemed keynote speakers:
Our 2024 Creator Keynote Speaker is Keith Knight, whose art has appeared in various publications worldwide, including the Washington Post, the New Yorker, San Francisco Chronicle, the Nib, Ebony, ESPN the Magazine, MAD Magazine, and the Funny Times.
In 2020, the world was introduced to Knight's work in a whole new way–as the inspiration for the live-action streaming television series, Woke, courtesy of Hulu. Knight served as a co-creator, writer, and executive producer on the show.
Our 2024 Scholar Keynote Speaker, Rebecca Wanzo, is a professor and chair of the Department of Women, Gender, and Sexuality Studies at Washington University in St. Louis. She is the author of The Content of Our Caricature: African American Comic Art and Political Belonging (NYU Press, 2020), which examines how Black cartoonists have used racialized caricatures to criticize constructions of ideal citizenship, as well as the alienation of African Americans from such imaginaries. It was the recipient of the Katherine Singer Kovacs Book Prize from the Society for Cinema and Media Studies, the Charles Hatfield Book Prize from the Comics Studies Society, and the Best Scholarly/Academic Work from the Will Eisner Comic Industry Awards.
She has also written essays for media outlets such as CNN, the LA Review of Books, Huffington Post, The Conversation, and the comic book Bitch Planet.
We will also feature an artist alley with dozens of creators showcasing their work. Applications for artist alley tables are available via our Forms page through September 22nd, 2023.
The presenters for our academic panel discussions will be by invitation only this year. We apologize for the change in format, but due to a number of shifts in personnel and physical spaces (our Special Collections Library housing the largest public collection of comic books in the world is moving several floors up, but staying in the main library) we regretfully need to scale back this portion of our event.
We look forward to seeing you at our 15th MSU Comics Forum in February 2024!
Sincerely,
Ryan Claytor
MSU Comics Forum – Director