Saturday of the Comics Forum began with an limited engagement tour of the Michigan State University Special Collections Library, the largest public collection of comic books in the world.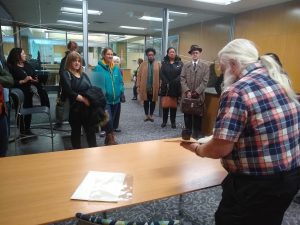 Randy Scott showcased a Rodolphe Töpffer comic book published in the 1800's.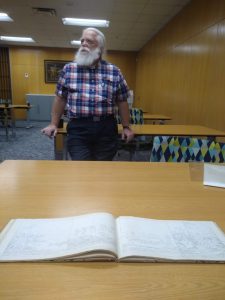 At 10:30, the artist alley began…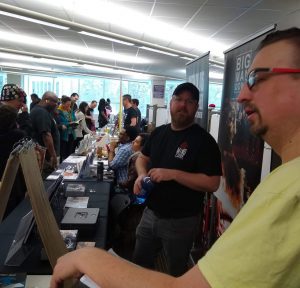 …as did the academic panel discussions.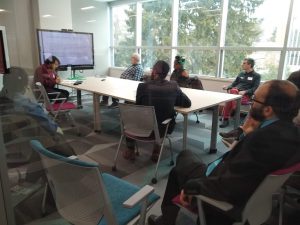 At noon our 2019 Scholar Keynote Speaker, Qiana Whitted, took the stage in front of a full room: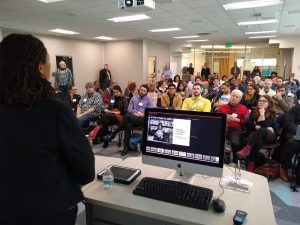 Standing room only.

2019 Creator Keynote Speaker, Seth, watches on.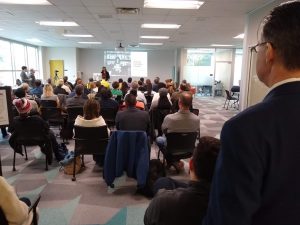 After Qiana's keynote address, both keynote speakers signed their books in Artist Alley.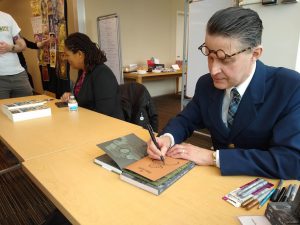 Qiana debuted her new book, EC Comics: Race, Shock, and Social Protest, today.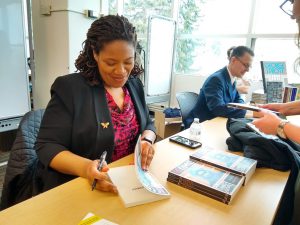 The MSU Comics Forum wrapped at 5:35pm, at which point our 2020 event was announced, complete with dates, venue, keynote speakers, event artwork, and availability of artist and scholar submission forms.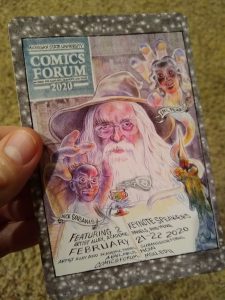 On the following day (Sunday), each of our keynote speakers were interviewed in our recording studio.   The discussion will be aired on a future episode of the MSU Comic Art and Graphic Novel Podcast.  Pictured below from left to right are Zack Kruse (MSU Comics Forum Panel Coordinator), Qiana Whitted (2019 MSU Comics Forum Scholar Keynote Speaker), and Julian Chambliss (MSU Comics Forum Incoming Panel Coordinator).