We're proud to announce our 2020 MSU Comics Forum event dates, location, keynote speakers, availability of our artist and scholar submission forms, and our event artwork: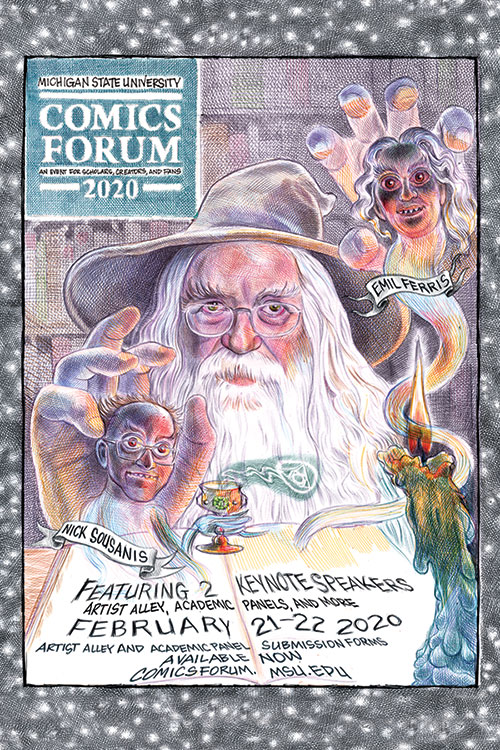 Emil Ferris is an American writer, cartoonist, and designer. Ferris debuted in publishing with her 2017 graphic novel My Favorite Thing Is Monsters, a coming-of-age story of Karen Reyes, a girl growing up in 1960s Chicago.  The book is written and drawn in the form of the character's notebook. My Favorite Thing Is Monsters was heralded as a "masterpiece" by Forbes and The AV Club, among others and has garnered numerous awards, including:
2017 Ignatz Award for Outstanding Graphic Novel for My Favorite Thing Is Monsters
2017 Ignatz Award for Outstanding Artist
2018 Lambda Literary Award for LGBTQ Graphic Novel for My Favorite Thing Is Monsters
2018 Eisner Award for Best Writer/Artist
2018 Gran Guinigi Award for Best Graphic Novel
2019 Grand prix de la critique ACBD
2019 Fauve d'or at Angoulême International Comics Festival
Nick Sousanis is an Eisner-winning comics author and an assistant professor of Humanities & Liberal Studies at San Francisco State University, where he is starting a Comics Studies program. He received his doctorate in education at Teachers College, Columbia University in 2014, where he wrote and drew his dissertation entirely in comic book form. Titled Unflattening, it argues for the importance of visual thinking in teaching and learning, and was published by Harvard University Press in 2015. Unflattening received the 2016 American Publishers Awards for Professional and Scholarly Excellence (PROSE Award) in Humanities, the Lynd Ward Prize for best Graphic Novel of 2015, and was nominated for an Eisner Award for Best Scholarly/Academic work. To date, Unflattening has been translated into French, Korean, Portuguese, Serbian, Polish, Italian, and Chinese.
– — —– — –
We look forward to seeing you again next year!
Sincerely,
The MSU Comics Forum Committee